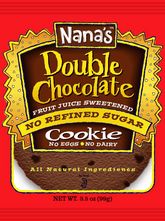 I've tried a cookie by Nana's Cookie Company before, and thought it was great! Well, they also sent me the Double Chocolate Cookie to try, and I was equally as excited.
According to the package, this cookie has no "eggs, no dairy, no refined sugar" and is "fruit juice sweetened"! That sounds like my kinda cookie! =)
This cookie, is BIG. In fact, One cookie has 2 servings, one serving being 50 grams or half of a cookie. It is a dark brown in color, with pieces of walnuts. I'll be honest- this cookie was REALLY good. I didn't miss the eggs or the dairy a bit! =) It was soft, rich, and buttery tasting. I loved how it had a rich chocolate flavor, and was fudgy too. The perfect amount of smeetness! The addition of walnuts also added a really nice touch, and I enjoyed them.
Overall,  4 1/2 stars. The only problem in my eyes, is half of a cookie is 210 calories and 10 grams of fat, with only 1 gram of fiber. Something as tasty as this- it's easy for me to eat half if not the whole thing! Good thing it's a rather large cookie =) !
Have you ever tried Nana's Cookie Company products? If so which ones and which ones are your favorite? *If you'd like to answer, please leave a comment below!*
1/2 cookie (50 grams) is 210 calories, 10 grams of fat, 29 grams of carbohydrates, 1 gram of fiber, 13 grams of sugar and 3 grams of protein.
Organic Whole Wheat Flour, Fruit Juice (pear, apple, grape), Rice Dextrins (a natural and unmodified starch), Expeller Pressed Canola Oil (GMO Free), Chocolate Chips (whole grain malted barley and corn, unsweetened chocolate, cocoa butter, soy lecithin added as an emulsifier, and pure vanilla), Dutched Cocoa, Walnuts, Baking Powder (non- aluminum), Baking Soda, Natural Flavors, Sea Salt.