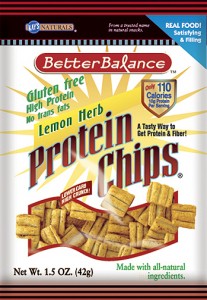 As someone who really doesn't eat meat, I really depend on eggs and dairy to get my protein, as well as soy products like tofu. I love when I find tasty, high protein products that are natural and good for you, too!
I got some products from Kay's Naturals, like the Protein Chips in Lemon Herb flavor.According to the package, these Protein Chips are gluten free, and have 10 grams of protein per serving. I'll be honest, I was a bit reluctant to try this flavor. Lemon Herb? It didn't sound like it was going to be as tasty, but it was!
First I was impressed with the portion size. a 1.5 ounce bag (which did have 1.5 servings in it) had a LOT of protein chips!Each chip is sort of in the shape of a rectangle, and has a wave to it. They dont really look identical to the ones depicted on the front. They were light, airy and crispy in texture. The taste was slightly sweet, slightly spicy, and quite salty. I could certainly taste the lemon- it reminded me of a tangy lemon peel or lemon zest, accompanied with a oniony/garlicy flavor.  Actually they kind of reminded me of sour cream and onion chips, with a little bit of sweetness from the lemon!
Overall, these are unique, and quite good! They are a bit high in sodium, but low in fat and calories, and high in protein.  4 stars
1 ounce (30 grams) is 110 calories, 3.5 grams of fat, 14 grams of carbohydrates, 3 grams of fiber, 0 grams of sugar, and 10 grams of protein.