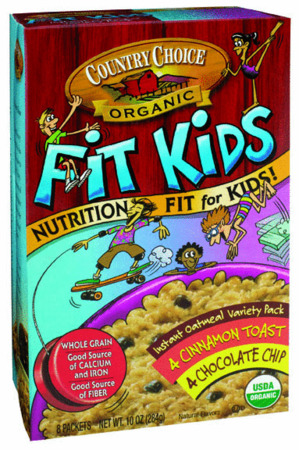 Oatmeal! While I love a good bowl of home-made rolled oats in the morning, there are times when instant oatmeal hits the spot. It's often much faster/easier to make (quicker clean-up, too!) and often has tasty flavors!
Country Choice Organic sent me some of their instant oatmeal from the Fit Kids line, like the Chocolate Chip and Cinnamon Toast flavors. Yes- Chocolate Chip and Cinnamon Toast! I was SO excited to try these- they sounded like dessert for breakfast!
I tried the Chocolate Chip flavor first. At first I was a bit disappointed- there were only a few chocolate chips, maybe 3 or 4? in my packet. I was sort of hoping for more. After cooking it, I noticed it didn't really thicen up like I'm used to with rolled oats, and was sort of loose (on another note- I noticed if you Microwave it instead of using hot water- it thickened up much better!) After cooking, the chocolate chips also sort of melted. I wish that the chocolate chips were on the side as a mix-in once the oatmeal was cooked. As for the taste? It really wasn't that sweet, and sort of tasted like a hot cocoa flavored oatmeal. I did add some mix-ins, like crushed pretzels and sliced bananas, which made it more heartier and more filling for me, as well as a bit of stevia to sweeten it up a bit. 3 stars
Cinnamon Toast- this one I decided to cook in the microwave, and it had a much better texture. It cooked and sort of puffed up quite nicely! However, I was a bit disappointed again. It just wasn't really that sweet tasting! It really kind of reminded me of plain oatmeal, with just a hint of cinnamon. I decided to add some maple syrup and sliced banana again, and found it much better. 3 stars
Overall, I do like that these are all natural, have 3 grams of fiber per packet, but they just aren't sweet enough for my preferences as is. However, I found with a little bit of stevia to sweeten it, and some mixins like fruit, these were actually quite good!
*Do you have a favorite flavor of oatmeal? Or, what's your favorite oatmeal mix-in?* Please leave a comment below if you'd like to answer! =)
1 packet ranges from 130-150 calories, 1.5-2.5 grams of fat, 26-28 grams of carbohydrates, 3 grams of fiber, 11-13 grams of sugar, and 4 grams of protein.