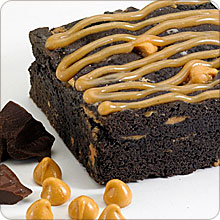 Oh yea. Peanut. Butter. Muscle. Brownie.
The generous folks over at Lenny & Larry's sent me one of these treats to try, and of COURSE I was excited. Not only was it  a brownie, it was a peanut butter brownie, AND it has TWENTY GRAMS of protein per 80 gram brownie!!
So, feeling hungry the other day and in the mood for something sweet and savory, I took out this brownie. It was a thick and rich brownie, with a decent layer of a peanut butter drizzle on top. Some actually stuck to my wrapper a little bit, but no worries! I took a bite, and… These are GOOD!
Very sweet, fudgy, dense, and moist. Just delicious! The brownie part was actually a bit too sweet, but still very good. The best part was the peanut butter topping- creamy, sweet and delicious.
This gets 4 stars from me. It was very good, but there are two servings in a 2.82 ounce package, with 170 calories and 6 grams of fat per serving. This brownie is too delicious not to eat the whole thing at once! I also wish that there was more fiber,  and less sugar. There is only 1 gram of fiber, and 12 grams of sugar per serving. On the bright side, I did like how it was filling, and certainly scrumptious. I can see myself using this as an on-the-go snack or mini meal for when I'm hungry but don't have time to sit down and eat.
1.41 ounces (40 grams) is 170 calories, 6 grams of fat, 19 grams of carbohydrates, 1 gram of fiber, 12 grams of sugar and 10 grams of protein.