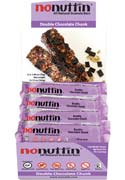 NoNuttin' makes snacks that have a lot to offer. For example, according to the package of the Double Chocolate Chunk Granola Bar I was sent to try from NoNuttin', this bar alone is "Gluten Free, Peanut Free, Tree Nut Free, Dairy Free, Egg Free".
Well? Let's give this a try!
The bar is on the smaller side, long and somewhat thin (about the width of my two fingers). It's brown in color, with visible oats, and pices of chocoalte on the top part of the bar. It has a rather soft consistency, and fell apart easily as I lifted up the bar after I took it out of the wrapper. The chocolate on top tasted like a dark chocolate, and was more bitter than sweet. The texture of the bar is chewy, and the oats sort of have that rolled oats consistency, like how they are before I make homemade oatmeal. The taste is better than the texture. It has a sweet, chocolatey flavor, with a hint of vanilla.
I probably would have enjoyed this bar more if it wasn't as chewy, and the chocolate pieces were sweeter. I'm giving it 3 stars. I DO like that it has a lot of things, such as being gluten free and dairy free, and that there is only 6 grams of sugar per bar.
1 bar (30 grams) is 120 calories, 4 grams of fat, 20 grams of carbohydrates, 2 grams of fiber, 6 grams of sugar and 2 grams of protein.