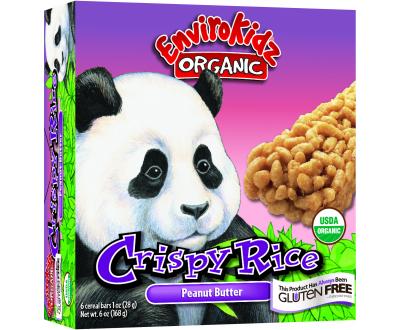 Seeing as I really enjoyed the Nature's Path Peanut Butter Panda Puffs, I was sure I would like the Peanut Butter Crispy Rice Bar that I was sent to try as well!
There's yet another cute panda on the package of the bar, which made me feel like a kid all over again =) . The organic bar is also gluten free.
I opened up the package, and saw a brown colored bar, and a lot fo pieces that resembled puffed rice. The bar was a bit sticky, and held together quite easily. It was soft, airy, and chewy, and  not too salty tasting. It didn't really have a savory peanut butter flavor, but kind of reminded me of a sweet peanut butter flavor, rather than the type I would eat from the jar. There was also a slight molasses flavor.
Overall, I would give this 3 1/2 stars. I consider it a rather light snack by itself, and think it would be good for those days I might not be hungry, but want something to eat. I do like that it's organic, gluten free, and a decently sized bar for only 110 calories!
1 bar (28 grams) is 110 calories, 3 grams of fat, 20 grams of cabohydrates, 1 gram of fiber, 7 grams of sugar and 2 grams of protein.
Organic Brown Rice Flour, Organic Brown Rice Syrup, Organic Honey, Organic Peanut Butter, Organic Invert Cane Juice, Organic Evaporated Cane Juice, Organic Soy Oil, Organic Acacia Gum, Sea Salt, Organic Molasses.