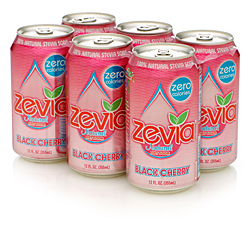 Although I have already done a review of Zevia soda in the past, I'm doing another. And guess what? A GIVEAWAY TOO!
For those of you who never heard of Zevia, here's some info about it from the website "ZEVIA is the first all natural zero calorie soda. With only pure ingredients, ZEVIA contains none of the chemically processed artificial sugar substitutes, artificial flavors or artificial colors found in other diet sodas. ZEVIA is all-natural, has zero calories, zero net carbs, zero fat, and little or no sodium (depending on flavor)."
Zevia was even mentioned in the September issue of O magazine!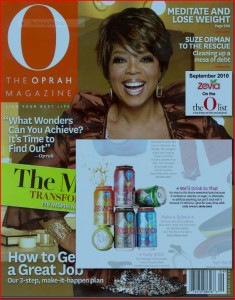 Well? Let's get started! =)
I opened up the Ginger Root Beer first. Ah, a crisp, good flavor. Can definitely taste some of the ginger. It wasn't super sweet, but rather just the right amount. I also loved that there was no caffeine in this flavor! 4 stars
Next up, Lemon Lime Twist. So refreshing! Also, not too sweet, but just the right amount. Also a really good blend of both lemon and lime flavors. Perfect to drink on a sunny, warm day! 4 stars
Next, Cola. This one was a bit sweeter, and not as carbonated/bubbly as the other flavors. It had sort of a cola syrupy taste to it, but was enjoyable. Went perfect with my dinner of pizza & steamed broccoli! 4 stars
Moving on to Orange- This one had a delicate yet tasty flavor. It was mildly sweet, with a tiny bit of zest to it. Yummy orange flavor! 4 stars
Next up, Dr. Zevia. Yum! I really liked this one. A good about of sweetness, and light cherry flavor. There was just a little bit of a zing or spice to it as well. It wasn't super carbonated/bubbly, which I liked, and was quite tasty. This one gets 4 1/2 stars
Black Cherry- my other favorite, this one had a good amount of sweetness, was bubbly, and I could certainly detect a black cherry flavor. Refreshing! 4 1/2 stars
Now, THE GIVEAWAY!!
1 winner (United States Only) will win ONE SIX PACK of assorted flavors of Zevia!
How to enter:
Please leave a comment for each below. If the entry counts as two  entries, leave two comments!
1. *Mandatory*
What if your favorite way to use stevia? If you don't currently use it, then what is your favorite sweetener to eat/use?
*Optional*
2. two entries! Blog about this giveaway, and leave a link in the comment section!
3. tweet about this giveaway!
4. Follow me on twitter!
5. Add me to your blogroll!
Contest ends Sunday, September 12th, 2010 at 12PM.