*ZEVIA giveaway ends Sunday!*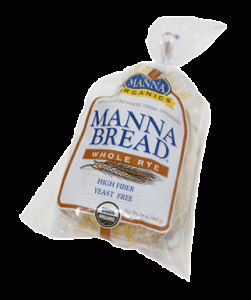 Along with the Carrot Raisin and Cinnamon Date bread I was sent from Manna Organics, they also gave me the Whole Rye. I'm not a huge rye bread eater, but I do remember when I was younger, I used to always eat bakery fresh rye bread during Thanksgiving with homemade mashed potatoes and a little bit of butter. Delicious!
So, I put this one in the freezer when I got it originally, and then thawed it in the refrigerator. Then I opened up the rye bread and noticed a good sized, brown loaf. The bottom of it was almost sort of wet and the top was a bit cakey and dry. I'm not sure if that was because I froze it and then defrosted it, or if it always comes like that.
Anyway- I cut a slice and took a bite. It has a very grainy and nutty texture, and there were pieces that almost looked like the brown popcorn kernels once they pieces are popped (Those little light brown flakes I guess I would call them?) To my surprise, it was still pretty soft. It was a dense and chewy bread, and not dry at all! A really good rye flavor, but I did miss the salt : ( It was a tad bit bland without it, so I decided to sprinkle just a little bit on top- Voila! Just the way I like it.
Overall, I'm giving this 3 1/2 stars. It's organic, has 5 grams of fiber per 56 gram serving, and the ingredients rock- only "sprouted organic rye kernels, filtered water". TWO INGREDIENTS? Nice. I was surprised to see 7 grams of sugar come from just sprouted rye kernels and water.. who knew?
2 oz. is 150 calories, 0 grams of fat, 32 grams of carbohydrates, 5 grams of fiber, 7 grams of sugar, and 6 grams of protein.