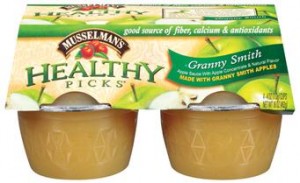 Being the applesauce lover that I am ( I insist it's not just for babies! =) ), how on earth could I turn down Musselman's when they asked if I wanted to sample their new Healthy Picks apple sauce in GRANNY SMITH flavor? Obviously I didn't! : )
What I like about Healthy Picks Granny Smith Applesauce  is that they are a bit different than other applesauces that I have tried. Aside from being all natural, this applesauce also has THREE grams of fiber and 10% of daily calcium needs per 4oz. cup! Fiber, calcium, and good taste? I'm loving that!
So, last night I opened up one of these cups to enjoy with my dinner. It was a normal colored applesauce, perhaps just a tad more green/yellow than what I'm used to. I was a bit scared or hesistant at first- even though apples are my favorite fruit, I'm really not a fan of Granny Smith apples. In fact, I really only eat them in two conditions. One- with peanut butter or Two– with a bland/unsweetened cereal and milk for breakfast. I usually find them too tart and even too crunchy for my preferences.
However, I tried this applesauce and really enjoyed it! I could certainly taste the granny smith aspect of it, but it really wasn't tart at all! There was a good amount of sweetness as well, which I certainly enjoyed. The texture was smooth, yet still had a little bit of consistency which I liked. It had the consistency of a fruit sauce, not a super smooth puree.
Overall, 4 1/2 stars! I would most likely buy this if I saw it in stores. I really love the extra fiber and calcium, and it's great taste. It's mild enough to eat with a meal, but sweet enough to also eat on it's own. Delicious!
1 4oz. cup is 70 calories, 0 grams of fat, 17 grams of carbohydrates, 3 grams of fiber, 10 grams of sugar and 0 grams of protein.
*** ZEVIA GIVEAWAY ENDS TOMOROW!!! ****