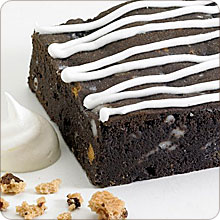 So, alongside the DELICIOUS Peanut Butter Muscle Brownie I was sent from  Lenny & Larry's, they also gave me the Cookies & Cream Muscle Brownie.
Same awesomeness in my opinion, with it's all natural ingredients, and 20 grams of protein for an 80 gram brownie. Protein + brownies= YES! : )
WHAT am I waiting for? Let's give this a try NOW!!
I opened up the package, and saw a dark brown colored brownie, with almost a white icing on top. It was kind of small, but thick and dense. It smelled very sweet, and had a vanilla aroma as well.
So, how did it taste? I only have one word to describe it.
Protein-licious.
As in, HOW is there protein in this deliciousness!?!? The brownie itself was soft and chewy, very slightly gritty, fudgy and sweet. The icing on top really wasn't as sweet as I thought it would be, but was pretty good. There were also little bits in the cookie, which I thought were walnuts, but they were actually soft and sweet. So, I'm assuming they are not walnuts. I believe they were either "cookie bits" or "marshmallow flavored pieces" according to the ingredients.
Overall, Cookies & Cream Muscle Brownies ROCK! As if I needed another excuse to eat a brownie, this one has lots of filling protein, and great flavor, as well as natural ingredients. One thing I didn't really like was the fact that it was a bit high in sugar (11 grams for half an 80 gram brownie), and there was corn syrup listed in the ingredients (s0mething I try to stay away from). Also, there were TWO servings in the 80 gram brownie, which it took almost all of my willpower to only eat half at a time (it's so good!).  Although, now that I think about it, a good-sized dessert brownie can be around 300 calories, give or take, with most of the calories I'm assuming coming from fat or sugar/carbohydrates. At least if someone I eat the whole brownie, it's 340 calories, and 20 grams of PROTEIN!! : )
So… 4 1/2 stars : )
1.41 Oz (40 grams)  is 170 calories, 5 grams of fat, 20 grams of carbohydrates, 11 grams of sugar, 1 gram of fiber and 10 grams of protein.
*** I also did a guest post on Yum Yucky. You can see it HERE! 🙂 ****