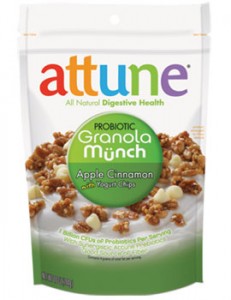 Ahh, nothing like a good granola. Crispy, crunchy, sweet but not too sweet, and still savory. What's better than granola? =)
Well, what about a granola with probiotics in it??
I was sent the Maple Nut Granola Munch from Attune ,and loved it. I was excited to try other flavors they had to offer, and well, I was sent the Apple Cinnamon flavor to try, too!
Which is actually kind of funny, in my opinion. I actually went to the grocery store in the afternoon, and saw the Maple Nut and Apple Cinnamon flavor in the store. I was going to try the Apple Cinnamon variety, but realized I only had enough money to buy what I went to the store for. So, I figured I would buy it another time.
Little did I know I would be getting a package only a few hours later of the Apple Cinnamon Probiotic Granola Munch! I opened it up almost immediately after I got it. There were crunchy and crispy pieces of granola, with tiny white pieces, that sort of resembled white chocolate chips. The taste was awesome, just as the Maple Nut flavor was. It was a great balance of well, apple and cinnamon flavors! A fresh, almost granny smith apple taste, with sweet cinnamon undertones. Although there weren't a lot of yogurt chips, they were delicious. They had a buttery sweet vanilla taste, and were nice and smooth.
I don't know how Attune does it, but this granola is fantastic. The only downside to me is a serving is only 1 ounce, which is a bit small for a granola lover like myself. But I LOVE that this is all natural, has probiotics, and is TASTY! Oh, yea. You know what this means? It's a 5 star rating!
1 serving (1 oz) is 120 calories, 4 grams of fat, 20 grams of carbohydrates, 3 grams of fiber, 6 grams of sugar and 2 grams of protein.