Oh it's that time again- review and giveaway!!!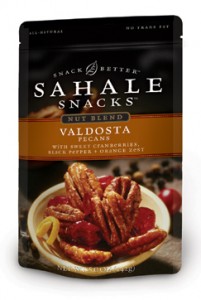 Valdosta Pecans- these ROCK. Seriously, so yummy. Rich, buttery pecans, that are slightly spicy, slightly salty, and have an almost sweet glaze (very light) on them. They accented with dried cranberries, about the size of a pea, that weren't too tangy. The little bit of heat, which I would assume is from the "black pepper" listed on the front. Really great combination- salty, sweet, and spicy! Really tasty, and SATISFYING too!- I could totally eat the whole bag! 4 1/2 stars
Sing Buri Cashews- wow, what FLAVOR! There are little pieces of pineapple that taste fantastic– sweet, NOT tangy at all, and great flavor. Then, there's a spiciness, and a sesame seed flavor which counteracts the sweetness. There are cashews mostly,but also some peanuts, that have a spicy/salty flavor to them, almost like red pepper or a hot tomato flavor. Another great salty/spicy/sweet combination- but this one has a bit more heat. DEELISH! 4 stars
I got an e-mail from Ms. Fortune from Sahale Snacks, saying that they are now available at Seattle's Best Coffee. It stated in the e-mail…
"Valdosta and Sing Buri nut blends debuted at Seattle's Best Coffee counters in convenient 2-ounce pouches — enough to share with a friend over coffee or to satisfy a morning and an afternoon snack craving.
Sahale Snacks' rich and peppery Valdosta Pecans pair especially well with Seattle's Best Coffee winter beverages, like Vanilla Cinnamon Latte. The spicy and exotic Sing Buri Cashews make a lively accompaniment to tea, espresso, and brewed coffee drinks."
So if you have access to Seattle's Best Coffee- lucky you!!  : )
And.. as some extra celebration, a giveaway! Of the Sing Buri and Valdosta Nut Blends.
How to enter? Please leave a comment for EACH entry!
*MANDATORY*
1. You must "like" Sahale Snacks on Facebook!
*Optional*
2.  2 ENTRIES! Link this giveaway to your blog/website, and leave a link in the comment section!
3. Tweet about this giveaway!/Follow me on Twitter (link under contact page)
4. If you haven't done so already, follow me/add me to your blog roll!
There will be TWO winners, U.S. residence only. Giveaway will end October 1st 2010, 12pm.
* I was sent the Valdosta Pecans and Sing Buri Cashews from Sahale Snacks for review*