Don't forget the Sahale Snack Giveaway!! 🙂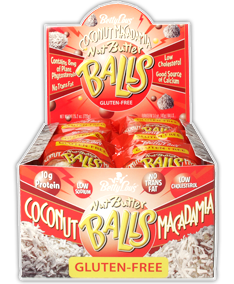 Betty Lou's Coconut Macadamia Ball. What is that, exactly? Well this product is a ball of goodness- protein, good flavor, all natural ingredients- the works! I also found out on the website, it is gluten free and soy free!
Betty Lou's sent me some products to try, including this Coconut Macadamia Ball. At first when I saw it, I was a bit skeptical. It looked, well, small! 150 calories for a small ball?  I hope it tastes good!
Well, it actually was quite good. It's COVERED in coconut, so if you like coconut, I think you'll like this! It was a chewy, very dense, and sweet product. I tasted more coconut than macadamia nut, but it was still tasty either way. It sort of had a typical protein bar-ish taste to it, which I can't really describe, but I'm guessing it's from the whey protein in the ball.
Overall, I'm giving it 3 1/2 stars. It was actually not as small as I thought it was, and quite filling, too! I love that it's all natural, has a good amount of fiber, and in the shape of a cute ball! According to the website, "Try this natural protein ball for a quick and healthy on-the-go snack"- I couldn't agree more! 🙂
1 ball is 150 calories, 7 grams of fat, 17 grams of carbohydrates, 8 grams of sugar, 5 grams of fiber, and 10 grams of protein.
Don't forget the Sahale Snack Giveaway!! 🙂