Don't forget the Sahale Snack Giveaway!!  =)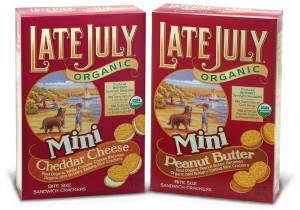 I don't know about you, but I was always a fan of mini snacks when I was younger. I think they are so cute- and, you usually get a bigger portion size for roughly the same amount of calories as the bigger counterpart!
So, you can count on it that I was certainly happy when I got a box of each Mini Cheddar Cheese and Mini Peanut Butter Bite Sized Sandwich Crackers to try given to me from Late July!
First, I tried the Mini Cheddar Cheese ones. I opened the box and saw a lot of little sandwich crackers- yum!  I couldn't agree more with the front of the box, as it said "Buttery Tasting Rich Crackers" for the cracker part, and "White Cheddar Cheese" for the cheese filling. It's EXACTLY what it tasted like! The cracker was salty a buttery, a bit dry, and soft/flaky. The cheese had a nice white cheddar flavor, that was salty and slightly tangy.  I liked that I got 13 crackers for one serving size, of only 110 calories!
The Peanut Butter ones were just as good. The cracker tasted the same, salty, buttery and slightly dry, with a thick peanut butter on the inside. Thick in consistency, not amount. It had that stick-to-the-roof-of-my-mouth peanut butter, that wasn't oily at all. It was also a slightly sweet peanut butter- yum! I do wish there was a bit more peanut butter on the inside, but still delicious!
Overall, these get 4 stars. I love that I get 13 crackers (1 oz) for a serving size, that these are organic, and I loved twisting each cracker off one by one, and eating them that way. Brought me back to when I was little =) On the downside, there is hardly any fiber in these (less than 1 gram per serving), and they are a bit high in sodium (310 mg for cheddar cheese, 240 mg for peanut butter) and fat. But, I think they are a great snacking alternative, and are quite tasty, too!
13 crackers is 110 calories, 7-9 grams of fat, 16-18 grams of carbohydrates, less than 1 gram of fiber, 2-3 grams of sugar, and 2 grams of protein.