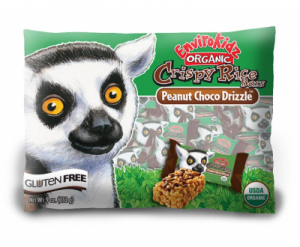 TRICK OR TREAT!
Halloween is right around the corner- what kind of treat are you going to hand out? How about instead of candy this year, a Treat Size Envirokidz Peanut Choco Drizzle bar from Nature's Path? These little bars are adorable, and a great option other than candy bars. Not only are they organic, but they are gluten free, too! They feature an adorable Lemur on the front of the package, and are about the size of a standard fun-sized candy bar (or about the size of my palm).
They are tasty too! A sweet peanut buttery base, topped with a perfect drizzle of chocolate. No joke- the drizzle on top was so pretty and perfectly organized! They have tiny peanuts in them too which add a nice touch- delicious! I'll take these over candy any day !
1 bar is also pretty good nutritionally. A 14-gram bar is 60 calories, 2 grams of fat, 9 grams of carbohydrates, 1 gram of fiber, 4 grams of sugar, and 1 gram of protein.
*Nature's Path provided me the treat sized bars for free.*