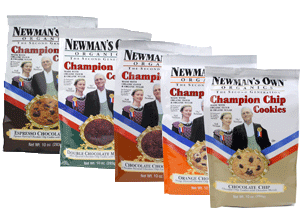 Oh yea, COOKIES!
I'd say I'm quite a fan of chocolate chip cookies (aren't we all?), and it's ESPECIALLY awesome when a cookie tastes great and has organic ingredients! Makes the treat of having a dessert all the more worthwhile in my mind 🙂
So, insert Newman's Own Organics Espresso Chocolate Chip Champion Cookies. I wasn't sure if I was going to like these, actually. I'm not a *huge* fan of coffee or espresso, in fact, I really never drink it, either. I just never have really been a coffee or espresso person, so I was hoping for the best.
I opened up the bag and saw cute sized cookies- bigger than the typical "mini" cookie, but not quite as big as a standard sized cookie. Just the right mini size in my opinion. They smell was like an average chocoalte chip cookie, wit just a hint of espresso/coffee aroma. It was a crumbly, sweet cookie, with a brown sugar/vanilla taste. There were quite BIG chocolate chips in proportion to the cookie. Actually, chips? I think that they  were more like chocolate CHUNKS! And soooo good, too! A milk chocolatey flavor, sweet, and  buttery. Delish. . The overall cookie did have a coffee-espresso flavor, but it wasn't overpowering at all. I liked that a lot! I think these would be great for a espresso lover, or for someone who is not too fond of espresso- as it's a good balance of both.
So, the verdict? 4 1/2 tasty stars. These were so good. It was like, I took a cookie out, began to eat it and thought, "ooh, these are good", then took another, and thought "no no, these are REALLY good!" The only thing holding it back from a 5 star rating is the nutrition. Indeed, they are cookies and I will use them as a treat, but they are a bit high in saturated fat for my preferences (3 grams per serving). Otherwise, I think a perfect compliment to a cup of coffee (if you like coffee), or a ice cold glass of milk !
1 serving is 4 cookies (33 grams) 150 calories, 7 grams of fat, 21 grams of carbohydrates, 1 gram of fiber, 11 grams of sugar and 2 grams of protein.
** I was provided a bag of these cookies for free from Newman's Own Organics**