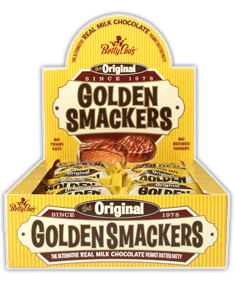 What's a Golden Smacker?
Well, to be honest, I wasn't really sure. Sure it looked tasty- anything involving milk chocolate has to be good to me! But, according to the website, "This smacker is covered in a creamy milk chocolate and is the perfect all-natural treat for those who love the combination of honey, peanut butter, oats, and milk chocolate!"
Well, I'm pretty sure I'm going to like it. I DO like "honey, peanut butter, oats, and milk chocolate!"
So, I opened up the package and was quite impressed- it was actually pretty big, and it reminded me of an oversized peanut butter patty. I took a bite and found that it was sweet, but not sugary sweet. It had more of a mild honey flavor. The milk chocolate on the outside was smooth, with peanut butter on the inside. There was also I believe crisp rice on the inside of the patty, which kind of took away from the peanut butter flavor. I sort of wish the crisp rice wasn't there, and it was just milk chocolate and peanut butter.
Otherwise, a nice treat. It is a tad high in fat, 10 grams per Golden Smacker, but it does have 6 grams of protein! If I'm going to eat a treat, there might as well be some protein in it to help keep me full! I give it 3 1/2 stars overall.
1 Original Milk Chocolate Golden Smacker is 190 calories, 10 grams of fat, 20 grams of carbohydrates, 11 grams of sugar, 2 grams of fiber and 6 grams of protein.
*Question* What's your favorite chocolate and peanut butter combination? I like to have peanut butter on chocolate muffins 🙂
*I was provided this product from Betty Lou's Inc. to try for free*