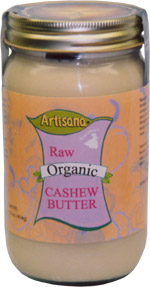 MMM cashews. One of my favorite type of nuts, as they are sweet and buttery tasting, and are great salted or even just as is. I always pick them (and pecans!) out of trail mix, and eat those first 🙂
Which brings me to cashew butter, another one of my favorites (right alongside peanut butter, of course!)
Artisana sent me a couple of there nut butters for free in cute 1 oz. jars, about 1 serving per jar. I loved them! So convenient, and pre-portioned, too! One of them I was sent to try was the 100% Organic Raw Cashew Butter.  This one was made with only 100% Organic Raw Cashews and nothing else. According to the
website,
"
Artisana™ Raw Organic Cashew butter is naturally high in Essential Amino Acids, Copper, Manganese and Magnesium. It's also a good source of Phosphorus, Vitamin K, Zinc. A fundamental food for the healthy vegan diet"
I opened up the jar and saw a pale beige colored nut butter, which sort of resembled a paste. It was thick when I stirred it, but had a very smooth consistency. The taste was excellent. Very creamy, pure and light tasting. Slightly sweet and slightly buttery, and had a very clean cashew flavor.
Overall, 4 stars. I did enjoy it, but I do like just a touch of salt when I eat nut butters. I felt as if something was a bit missing when I tried it, although it was quite enjoyable. Otherwise, I would probably eat this again. If not spread on something, than probably right from the jar! 🙂
1 Tbsp. is 92 Calories, 8 grams of fat, 4 grams of carbohydrates, 1 gram of fiber, 1 gram of sugar and 3 grams of protein.
*What's YOUR favorite nut butter? And if you ever had cashew butter, what do you eat it with?*