Wallaby Yogurt makes some pretty delicious products, such as organic yogurt in nonfat, low fat and "down under" (fruit on the bottom like) varieties, and now they even make sour cream! I love when yogurt is organic, as I think it tastes very fresh and clean, without any aftertaste.
So, browsing the aisles at the supermarket I stopped in my tracks… this can't be… CARAMEL APPLE YOGURT??!? I hope we all know my obsession with apples… 😀 I immediately put it into my shopping cart!
I know the last time I tried a Wallaby Yogurt it was good, but not as thick as I like yogurt to be. It has an almost runny/liquidy consistency, not as thick as other yogurts and certainly not thick like greek yogurt. So, I stuck this in the freezer for about 30 minutes to let it thicken up. I opened it up and took out a scoop.
yuuuuuuuum.
It was a creamy vanilla yogurt part that was on top, that was smooth and sweet. On the bottom were apple chunks in an almost caramel/applesauce flavored syrup. Really delicious! At one point I actually did feel like I was eating a caramel apple!
Overall, this gets 4 1/2 stars. WAY too good to pass up! Tasty, organic, and sweet but not too sweet, it was very delicious. I jus wish, of course, the yogurt part on top was a bit thicker, but still enjoyable nonetheless. Also, it wasn't as filling as I wanted it to be, but pair it with some cereal or something and it's a great afternoon snack!
Look at this deliciousness!!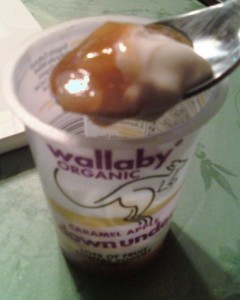 1 container is 150 calories, 2 grams of fat, 27 grams of carbohydrates, 0 grams of fiber, 23 grams of sugar and 6 grams of protein.
Question- What's your FAVORITE brand and/or flavor yogurt? This is certainly now one of my top favorites! 🙂
*I was provided a coupon to try Wallaby Yogurt for free*