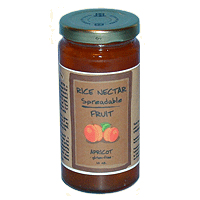 One of the dried fruits I happen to really enjoy is apricots. I think they are tangy and sweet, and have a great chewy yet plump texture. 🙂
I was sent a jar of Suzanne's Specialties Rice Nectar Spreadable Fruit in Apricot flavor to review. I was excited to try this- I happen to love strawberry and grape jam or jelly, so I imagined this to be like an "apricot jelly". According to the jar, this product is gluten free and vegan.
I opened up the jar and saw a pale yellow/orange inside. I scooped a little bit out and noticed it was sort of like a gel- it wasn't very liquidy like jellies can sometimes be, and I didn't see any pieces of fruit. It was sort of a stiff yet easily moveable gel.
I tasted a little bit, and was actually satisfied. It wasn't as sweet as I had expected it to be, but was still tasty. It had that dried apricot flavor that I love- mildly sweet with a tangy aftertaste.
Overall, I give this 4 stars. I do wish it was a bit sweeter, but overall I liked it. I liked that it was gluten free, and vegan, as well as being all natural. I can imagine it great on a slice of whole wheat toast, or maybe even with peanut butter in place of grape/strawberry jelly on a sandwich. Yum!
**Question- what's your favorite dried fruit, and how do you like to eat them?
1 Tbsp is 40 calories, 0 grams of fat, 10 grams of carbohydrates, 0 grams of fiber, 7 grams of sugar and 0 grams of protein.