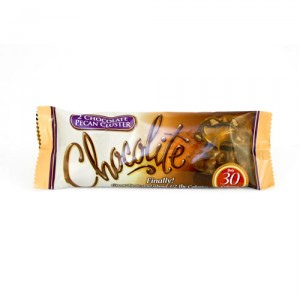 So far, I'd say I'm a fan of Chocolite Chocolates. Not only are they relatively low-calorie, but they are also quite tasty! My favorites have been the Caramel Cashew Protein Bar and the Peanut Butter Cup Patties.
Which are we reviewing today? Chocolite Chocolate Pecan Cluster! This package had 2 pieces in it, at 30 calories a piece. They also had six grams of fiber per piece, and 0 grams of sugar per piece.
I opened up the package and saw two chocolate covered clusters, roundish in shape with a somewhat bumpy texture. One of them I saw the caramel oozing out of the package, so I assume that one got a little smushed 😛 I liked that each cluster was a pretty decent size, maybe about a little bigger than a half-dollar in circumference, and quite thick in width as well.
I took a bite, and well, I couldn't stop chewing! This seriously has SO much caramel! If you are a fan of caramel, I would highly reccommend these! I sort of wasn't even expecting a ton of caramel, since it was called a "Chocolate Pecan Cluster", although the picture does depict a good amount of caramel coming out of the cluster on the package. Other than the caramel, which actually was pretty good it was just rather chewy and had that stick-to-my-teeth feel, the chocolate part was very good. It had a smooth and sweet milk chocolate taste. I was a little disappointed on the pecan part, as although I do believe there were little bits and pieces of pecans throughout the cluster, it was lacking in pecan flavor- one of my favorite nuts!
Overall, I give this 3 stars. It was pretty good, and I liked that there were 0 grams of sugar per serving. However, I do like the flavor of caramel, but not so much the consistency. If it was a bit less chewy, perhaps I would have liked it more.
1 cluster is 30 calories, 2 grams of fat, 8 grams of carbohydrates, 6 grams of fiber, 0 grams of sugar and 1 gram of protein.
* I was sent this product to review for free from Chocolite/Health Smart Foods.