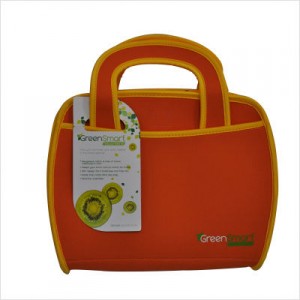 Remember lunch boxes in school? Whether a tin or a bag, they usually had some type of cartoon or some pretty design that kept the lunch cool or warm until it was time for a break? And then of course, I remember the stage where it wasn't "cool" to have a lunch box, so the switch was then made to brown paper bags (so not earth friendly!!)
Well, it's back to lunch bags- but this time, a more sophisticated "lunch tote"! And this bag has more to offer than the standard lunch bag doodled with designs.
I was offered a gift card from CSN Stores to pick out something to do a review on, so I chose the Green Smart Javan Style Insulated Lunch Tote. I chose this because I often have to pack a day's worth of food ahead of time, and let's face it. Warm yogurt is not yummy, and warm water is so not as refreshing as cold! On the plus side, this lunch tote is made from Neogreene, which according to the website, "is a water-based material which allows for a much cleaner chemistry than neoprene". Along with that, it also stated this lunch tote "Uses 25% less petroleum, 25% less energy, and eliminates toxin laden solvent adhesives to bind the fabrics to the Neogreene".
So, I recieved my lunch tote in the mail the other day, and packed my food (from 12pm in the fridge until about 6-7 pm is when I used it). It kept my potato salad cool and my water actually quite cold, which was a plus in my opinion. I had a peanut butter and jelly sandwich in there, which didn't really need to be refrigerated, but it kept fresh as well- no soggyness!
I liked that on the bottom there was a sort of loop band to put a waterbottle in laying down- saved space! I also liked the bright tangerine color, and the fact that it was a soft lunch box, so it didn't have that square shape or rough edges.
However, this lunch tote was a bit too big for me. I sort of had to hold it by hand rather than stash it in my bag on my way out the door, because it was a bit big. Although, there is certainly plenty of room to store lots of goodies, and I like that it kept my food fresh. I think lunch bags can be suitable for all ages! 🙂 4 stars
*S0, do you brown bag it? Or are you a user of the lunch box/bag? Please leave a comment below! 🙂