SO SORRY for the posting hiatus… I've been a busy gal! But I'm back with another yummy review for you guys to read! 🙂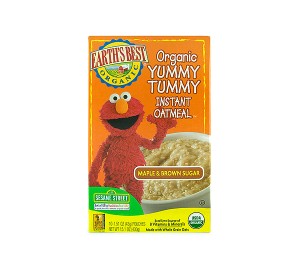 Today's review… Earth's Best Yummy Tummy Instant Oatmeal in Maple & Brown Sugar flavor. Now that the weather is inevitably getting colder (I'm so not happy about the cold weather!), what better than to have a  nice warm bowl of oatmeal?
Aside from the catchy orange box, this oatmeal had Elmo from Sesame Street on it. I am a kid at heart, and well, how could I not like a product with Elmo on the box? According to the website, here's some quick facts about this oatmeal.
"
Quick, easy and nutritious way to serve up a hot breakfast to start the day
30 grams of whole grain per serving
Fortified with 8 essential vimins and minerals
Excellent source of iron, zinc and vitamin B
Made with whole grain oats
3 grams of fiber per serving
USDA organic: no growth hormones, antibiotics, steroids or potentially harmful pesticides or herbicides
No artificial flavors, colors, preservatives "
Sounds good to me! 🙂
I couldn't wait to try it- one of my favorite flavors for oatmeal was brown sugar and I also adore the flavor of maple! So I made the oatmeal, poured in the hot water, let it cool and gave it a taste. The verdict? Not bad!
It was a creamy oatmeal, that gave a decent sized bowl. I loved the fact that there was added vitamins and minerals, and four grams of fiber per serving. However, I thought it really wasn't that sweet. There was eleven grams of sugar, so I was imagining it to be at least a bit sweeter than it was. However, I'm sure the mild sweetness could easily be enhanced by an extra sprinkle of brown sugar or some stevia, or even some fruit. Otherwise, I enjoyed the oatmeal, and I'm giving it 4 stars.
1 packet is 160 calories, 2.5 grams of fat,32 grams of carbohydrates, 4 grams of fiber, 11 grams of sugar and 4 grams of protien.
Question- who's your favorite Sesame Street character? Mine was always Cookie Monster 🙂