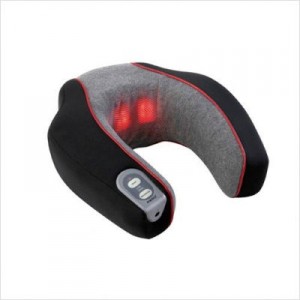 The lovely people at CSN stores offered me $35 gift card to pick out whatever I wanted at CSN stores. I was stuck between a few items, but finally I settled on getting the HOMEDICS Neck and Shoulder Massager. I couldn't wait to try it- I've been craving a shoulder massage for so long! : )
I opened the package and took out the massager. Pretty interesting! You can only use the heat part of massager if it's plugged in, but there is the option of using batteries. Unfortunately, it didn't come with batteries, so first I had to rummage the drawers in my house to find the pack of batteries. Luckily, I found them and put them in the compartment under the zippered exterior. Then, I tried it both plugged in and with the batteries after placing it on my neck. It was a tad bit big for me, but not too bad.
There are two options for the massage, a High and a Low, and I preferred the low, lighter option. When I put it on the High option, it almost kind of gave me a headache. The heat was a nice touch, although slightly annoying that you can't use the heat with just the batteries, and needed the plug. It was a mild heat, which felt nice.
Overall, I would call this a neck massager, not a neck and shoulder massager. It did little really for my shoulder, and mostly concentrated on my neck. Although I can see it being helpful when neck pain is a problem. 2  stars.
and… the winner of the Musselman's apple cider and apple butter giveaway is KAYLA with the comment "i love apple pie a la mode! 

haha."
selected via random.org! Congrats! Please email me your information so I can ship out the prize!