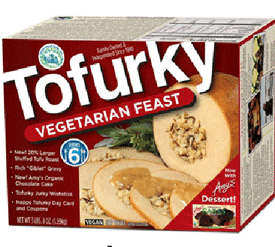 It's almost Thanksgiving, the big turkey day! How about instead of eating a turkey this year, someone brought a TOFURKY Vegetarian Feast to try?
Well, I got offered a coupon to try the Tofurky Vegetarian Feast for free, and thought, Why Not?. I happen to be fond of vegetarian products, so I thought I would give this a try.  I also asked a friend of mine to try it, who happens to be a meat eater.
This feast comes with 1 Tofurky with stuffing inside, a gravy, and Amy's Kitchen chocolate cake (Yes! I finally get to try the chocolate cake from Amy's!) and "wishstix" (wishbone). It said on the cover that it "serves 6" people, but when I opened the box it looked rather small. "Vegetarian feast?" I thought. Compared to the Turkey we usually get every year, this looked like a vegetarian snack.
Nonetheless, I let it defrost in my fridge and then started my oven up to get this meal cooking. Once I took the casing off of the Tofurky, I did notice it was rather thick and dense, and perhaps it would serve more than I thought. Unfortunately, when it defrosted, some of my gravy leaked all over the box 🙁
Aside from what was included, I also made some steamed vegetables, as I felt something was missing from the feast. I put it in the oven for about 1 hr and a half at 350 degrees Fahrenheit. And… here's how it went…
Stuffing-stuffing was pretty good. It was kind of pasty and dry, and looked like rice pilaf with bread in it. I wish it was a little less dry, but good nonetheless. I actually wish there was more than what was given.
Gravy- before cooking the gravy, it looked piecy and lumpy, almost. After cooking it, it was smooth, tasty an had a rich flavor. Good gravy!
Wishstix- well. I really did not like this part of the meal. It was very chewy, hard to pull apart, and tasted like teriyaki. Not my kind of flavor.
Amy's Kitchen Chocolate Cake-Mmmmm. Best part of the meal! Sweet, moist, dense, rich and fudgy like a brownie! Just delicious 🙂
Lastly, the TOFURKY- At first bite, I thought this was pretty good! It was a bit salty, but wasn't dry at all, and had good flavor. It was chewy and went well with the gravy (I used applesauce as well, which I really enjoyed). However, halfway through the meal I had to kind of stop eating the Tofurky. It was too salty for me, and too much all at once. One-sixth of the Tofurky had 42 grams of protein! I was certainly impressed with that.
Overall, I will admit that I like real turkey over Tofurky. It was too salty in general, and too salty for me. The stuffing was pretty good, flavorful and unique, and the cake totally made the meal. My friend who had the feast with me said she enjoyed it, and she usually does not eat vegetarian products and is a meat-eater. However, I'm giving this 2 1/2 stars
Hope everyone has a great Thanksgiving!!! 🙂
Tofurky Roast with Stuffing- 1/6th roast & stuffing is 300 calories, 7 grams of fat, 620mg of sodium, 16 grams of carbohydrates, 3 grams of fiber, 1 gram of sugar and 42 grams of protein.
Tofurky Gravy- 1/4 cup has 50 calories, 3.5 grams of fat, 30 mg of sodium, 3 grams of carbohydrates, 1 gram of fiber, 3 grams of sugar and 3 grams of protein.
Amy's Kitchen Chocolate Cake- 1 slice (55g) has 170 calories, 6 grams of fat,130 mg of sodium, 27 grams of carbohydrates, 1 gram of fiber, 16 grams of sugar, and 2 grams of protein.
Wishstixs- 1/2 of a piece (3g) has 10 calories, 0 grams of fat, 25 mg of sodium 1 gram of carbohydrates, 0 grams of fiber, 0 grams of sugar and 1 gram of protein.