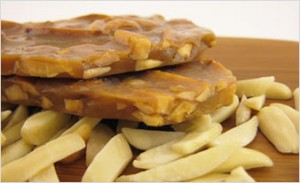 Mmmm. Candy.
While I can't say that I hate candy (that would be lying), I CAN say that I don't appreciate it when there are trans fats, artificial flavors, preservatives or other additives and fillers in candy. I think it takes the "sweet" part out of eating a "sweet treat".
But, with P.O.P. Candy, their candy is all natural, and the ingredient list for the things I tried really isn't even that long. I got to try several of the Butter Crunches, along with the Chai Tea Granola Pecan Bar that P.O.P. Candy sent me to try for free. While I can't say they are necessarily healthy, I do think they are a better option than some candies that may have not-so-good for you ingredients.
Anyway….On to the taste!
I tried the following Butter Crunch samples- Almond, Rosemary Almond, P.O.P. Mix, Pistachio and Pecan. Each of the crunches had generally the same sweet base/flavor, with variety with the add-ins, such as the nuts. They were crunchy, but not so hard like it was hard to bite on. They were sweet, buttery, and smooth, and left a very rich feel in the mouth. The Almond variety had a nice toasted almond flavor, that also added a little bit of crunch. The P.O.P. Mix was one of my favorites, sweet salty, with also a slight burnt nut flavor, but tasty! The Pistachio tasted slightly sweeter than the rest, and the Pecan variety had buttery and crunchy nuts. Of the 5 samples I was sent, I didn't like the Rosemary Almond flavor- it had a little bit of too strong of a rosemary flavor for my preferences.
Then I tried the Chai Tea Granola Pecan Bar. All I could say was deeeeeee-licious! It wasn't a very typical granola bar, as I coulnd't really break it easily with my hands or pull it apart. It had the sweet buttery crunch, with crunchy nuts and then chewy pieces of fruit. What I didn't detect, really, was any granola or any chai tea flavor (?). I was confused, but I still really enjoyed it. The raisins were plump, juicy and sweet, and the nuts added the saltiness and a nice crunch.
Overall, the butter crunches as a whole I would give 4 stars, but the Rosemary Almond flavor would get 2 stars. The Chai Tea Granola Pecan Bar would also get 4. The reason the butter crunches and the granola bar do not get 5 stars is, obviously, they are candy so they are not the most nutritious things one could be eating. But, I think it's fine in moderation! 🙂
I didn't have access to every nutritional information, but I was sent the information for the Almond Butter Crunch.
57 grams is 330 calories, 25 grams of fat, 11 grams of saturated fat, 25 grams of carbohydrates, 2 grams of fiber, 20 grams of sugar, and 4 grams of protein.
Almonds, Butter (cream, salt), Sugar, Brown Rice Syrup (Organic Brown Rice, Pure Filtered Water), Salt.