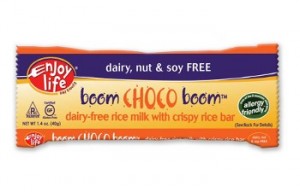 Introducing, one of the most allergy friendly bars I have probably ever eaten. Enjoy Life sent me some of their boom CHOCO boom bars to try for free, one being the dairy-free rice milk with crispy rice bar. This bar is soy free, dairy free, nut free, gluten free, and according to the back of the wrapper, "they contain NO: wheat, dairy, peanuts, tree nuts, egg, soy, fish or shellfish. Also made without casein, potato, sesame, and sulfites". How's THAT for a chocolate bar?
So of course, I was a bit iffy to try it. I mean, milk chocolate is usually what I eat and like, and this bar had NO dairy? Hmm..
So, I opened up the wrapper and saw 4 rather large squares of chocolate. I took the plunge and took a bite and…
mmmmmm. 🙂
Sweet, creamy, delicious. This has no dairy? I would have never known! A great chocolate flavor, a great milk chocolate flavor (minus the milk of course), and really good. There weren't a ton of crispies in it, which I actually liked because I feel as if sometimes the add-ins take away from the actual chocolate. But the crispies themselves tasted like white rice crispies, and left a little bit of an aftertaste.
Overall, 4 stars. Delicious! I think that anyone might like this bar, and it's great that it caters to people with special dietary needs. It is a bit high in saturated fat (10 grams per package), and sugar (16 grams per package), but then again, it is candy, and probably not meant to be eaten every day.
1 package  is 220 calories, 15 grams of fat, 22 grams of carbohydrates, 1 gram of fiber, 16 grams of sugar, and 1 gram of protein.
What's your favorite type of chocolate bar? Please leave me a comment below! 🙂
Evaporated Cane Juice, Non-Dairy Cocoa Butter, Natural Chocolate Liquor (non-alcoholic), Rice Chips (rice flour, rice bran, raisin juice concentrate, honey, salt), Rice Milk Powder (rice syrup powder, rice starch, rice flour, salt, carrageenan), Salt.