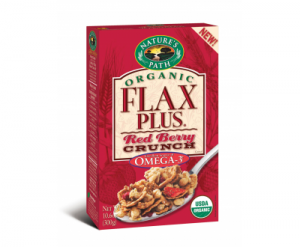 Nothing like a cold bowl of crunchy cereal in the morning. In fact, I find myself having cereal and fruit with almond milk almost every day of the week! Satisfying, crunchy, and just plain good!
I happen to love when cereals have little add-ins to them, like granola clusters, dried fruit, marshmallows…(gotta love the marshmallows!), so I thought Nature's Path Organic Flax Plus Red Berry Crunch actually looked pretty good.
I opened up the box and saw flakes, little balls that resembled crisp rice, granola clusters with flaxseed, and dried strawberries. According to the ingredients, there were supposed to be dried raspberries as well, but I could only really distinguish the strawberries (which were rather small, as well).
I decided to try each of these components separately, and then together.
The flakes were the best part. Crunchy and sweet, with a strawberry aftertaste that was quite delicious. The granola clusters were crunchy, but had an overall flaxseed flavor that I wasn't too fond of, only because while I do eat flaxseed for the nutritional benefits, I'm not a fan of the flavor of flaxseed. Next up, the strawberries, they were a tad bit small, not real "chunks" of strawberries, and were rather tart.
As a whole, the cereal was really good. Nutty flavored, crunchy, sweet and very tasty actually. I also read on the box that the cereal "contains 0.5g of Omega 3 per serving, which is 38% of the recommended daily value of 1.3g"- so not only tasty, but good for me too! : )
Overall, 4 stars. I liked the flakes the best, and overall a yummy cereal. I do wish the strawberry pieces were larger, and perhaps they had some granola clusters without any actual flaxseeds in them, just so I can taste the yummy granola 🙂
3/4 cup is 210 calories, 3.5 grams of fat, 39 grams of carbohydrates, 5 grams of fiber, 10 grams of sugar, and 6 grams of protein.
*I was sent to try this box of cereal for free from Nature's Path*