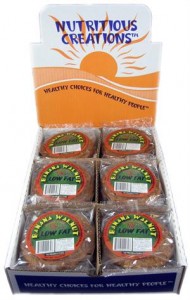 During my rather busy day yesterday, I ran into a little grocery store and bought myself a greek yogurt and a Nutritious Creations Low Fat Banana Walnut Cookie. The store had a few options to choose from, but I was in the mood for banana, so I bought that one. I liked, for one thing, how BIG the cookie was. Not the typical homemade or medium sized store bought, but a large cookie. Perhaps the size of a CD. This cookie is made with natural ingredients, and although not something I would normally indulge in, seeing as it was made with corn syrup and wheat flour as opposed to whole wheat, I decided to buy it anyway.
Anywayyy…
Because it stated it was low fat, I was expecting a rather dry and very sweet product,  but it actually wasn't that bad. It had a good amount of sweetness, and was only slightly dry. It overall had a good amount of moisture and a chewy texture, which I also think was from pieces of rolled oats throughout the cookie. The banana flavor was really good- a real banana flavor, not a fake, artificial one, which I really enjoyed. The walnuts were also a nice touch, not big chunks, but rather small pieces dispersed throughout the cookie. What I did not like at all was that there was these rice crisps throughout the cookie, and it was sort of offputting for me. It was like eating a chewy cookie and then an unexpected piece of puffed rice got in the cookie. I didn't really like it, and it sort of took away from the cookie in my opinion.
Overall, pretty good cookie. I would totally buy it again if there was an option without the rice crisps. I liked that there was 4 grams of fiber and 170 calories for a rather large cookie. However, this cookie also had 18 grams of sugar, and was made from wheat flour rather than whole wheat, so I would use it as a "treat" rather than an everyday snack. 3 stars
1 cookie is 170 calories, 2.5 grams of fat, 30 grams of carbohydrates, 4 grams of fiber, 18 grams of sugar and 3 grams of protein.
Question- what's your favorite cookie variety? Please leave me a comment below!