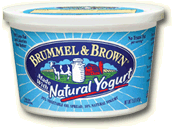 I'm reviewing one of my favorite spreads- a delicious buttery spread made by Brummel & Brown. I saw Hungry Girl for promoting this delicious product in the recipes, so I thought to give it a try. Plus, it's made with yogurt- and I'm a TOTAL yogurt kind of girl 🙂
Now, the ingredients aren't as thrilling as I'd like them to be, but nonetheless, they still aren't that bad. When I opened up my tub of spread, it looked like regular spread tub butter. A pale yellow with a swirl on the top. It was soft, and melts easily. Not too salty, but a good buttery flavor. I couldn't really tell the difference between full fat and this Brummel & Brown spread!
My favorite way to use it is on an english muffin with scrambled eggs. I find it really made a difference when makiing french toast as well. Normally I would use non-stick spray, but using the Brummel & Brown really gives it a buttery flavor, without a ton of calories or fat.
Overall, 4 1/2 stars. A fantastic product. I highly reccomend giving it a try!
*Question–> What's your favorite spread for toast? Mine is butter with cinnamon and sugar, or other favorite would be good ol' peanut butter. Mmmm.
1 tablespoon (14 grams) is 45 calories, 5 grams of fat, 0 grams of carbohydrates, 0 grams of sugar, 0 grams of fiber and 0 grams of protein.
Water, Vegetable Oil Blend (Soybean Oil, Palm Oil, Palm Kernel Oil, Canola Oil), Salt, Gelatin,  Nonfat Yogurt (Cultured Nonfat Milk), Soy Lecithin, Vegetable Mono and Diglycerides, (Potassium Sorbate, Calcium Disodium EDTA) Used to protect quality, Lactic Acid, Artificial Flavor, Vitamin A Palmitate, Beta Carotene (color).