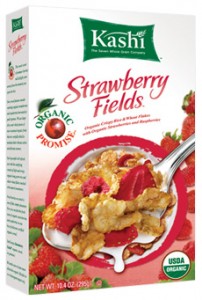 Nothing like a good bowl of cereal to start off the day. One of my favorite cereals is Kashi Organic Strawberry Fields. Since I don't consider it really a whole grain for my consumption of the day since the first ingredient is "Organic Long Grain Rice", I usually pair it with a whole grain cereal, like Cheerios, and half a banana with some almond milk for breakfast. It's description on the box is "Organic Crispy Rice & Wheat Flakes with Organic Strawberries and Raspberries", and let me tell you, it is 100% delicious!
I find each time I buy the box it's always something different for the shapes of the flakes. One time I got rather small pieces, and the last time I purchased this cereal I got really large flakes. Nonetheless, they are crunchy flakes with a sweet coating and sheen to them, with a bit of strawberry flavor. My favorite part, of course, is the freeze-dried strawberries. While I won't eat the strawberries without having them soak in my almond milk for a while [they can be a bit tart], they plump up quite nicely in the milk and are great.
A downfall of this cereal is that sometimes the dried fruit part is not even. I remember once I only got about 4 or 5 freeze dried strawberries in the whole box! I was very disappointed. I also find that there are not a ton of raspberries in the cereal, but that's okay for me because I prefer strawberries over raspberries anyway.
Another thing is that like I said before, the first ingredient is "Organic Long Grain Rice", although there is "Organic Whole Wheat" as the 3rd ingredient, but not enough to make this count as a whole grain serving for me for my day. But it's too delicious to pass up on. Sweet, crunchy, and just perfect in milk, or straight from the box.
Overall, I give this 4 1/2 stars. One of my favorites! I love that it's organic, delicious, and only 9 grams of sugar per 1 cup (32 grams) serving.
What's your FAVORITE cereal to eat for breakfast?
1 cup (32 grams) is 120 calories, 0 grams of fat, 28 grams of carbohydrates, 1 gram of fiber, 9 grams of sugar, and 2 grams of protein.
Organic Long Grain Rice, Organic Evaporated Cane Juice, Organic Whole Wheat, Organic Freeze-Dried Strawberries, Sea Salt, Organic Brown Rice Syrup, Organic Freeze-Dried Raspberries.