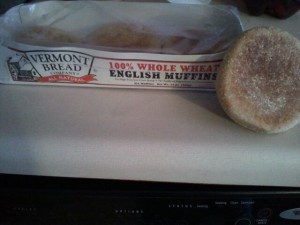 One of my favorite lunches is a whole wheat english muffin with butter, with scrambled eggs, maple syrup and a nice big apple. I normally get the Thomas' Whole Wheat english muffins as those are my favorite, but the grocery store was out. So, I decided to pick up another brand and give this one a try. They sounded pretty good- the label said "No High Fructose Corn Syrup" and "No Artificial Ingredients or Preservatives". They sounded yummy! And I didn't think they could taste that different from the other ones, right?
Well,….
I opened up the package, and saw that these were rather round and dense english muffins. When I split open the muffin to toast it, it wasn't as soft as I would have liked it, but I figured it didn't really matter since I was toasting it anyway. After a few minutes, the edges crisped up and the english muffin toasted quite nicely- no soggy spots or anything. I took a bite, and wasn't that pleased. It had a very dry, wheat flavor, and well, was kinda very bland. I spread some butter on it, and that did help (of course butter helps!) Then I poured some maple syrup on it, and it soaked up the maple syrup quite well, and was good with that. It was like english muffin french toast, minus the cinnamon, and crunchy. So perhaps it wasn't like french toast at all. Moving on…
The next day I had the english muffin with butter, a sprinkle of salt, and a fried egg rather than scrambled eggs, letting the yolk absorb into the english muffin (delicious!).  With the fried egg, it was better, but still wasn't spectactular.
Overall, there are pros and cons to these. I did like that it was a doughy muffin, and after toasted it had a soft interior and crusty edges. I also like that it was HFCS free and all natural, along with being whole wheat. What I didn't like was that it had a very off taste- cant quite put my finger on it. One of the ingredients is vinegar- perhaps that's it? I wasn't sure. Nonetheless, it had a very strong taste that I wasn't too fond of, except when I had the fried egg and butter on it. I'm not sure if I would buy these again.  Overall, 2 1/2 stars.
1 muffin is 130 calories, 2.5 grams of fat, 26 grams of carbohydrates, 3 grams of fiber, 1 gram of sugar and 6 grams of protein.
What's your favorite thing to put on an english muffin?