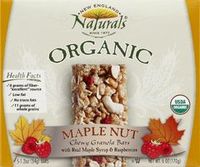 When it comes to snacks, I have to be in the mood for a granola bar. Most of the time I find I would prefer something crunchy or something I can sit and savor rather than a granola bar, which I view as a more on-the-go type of snack. However, the other day I wanted something substantial, and something tasty. I pulled out the New England Naturals Organic Maple Nut Chewy Granola Bar, in hopes it would taste as good as the last one I tried.
Some things to note, the wrapper states that this bar has "6 grams of fiber", "11 grams of whole grains" and is "low fat" with "No trans fats". It already was my type of granola bar. I opened up the wrapper and saw a decently sized ( 34 grams) bar, that was flexible and easy to bend. I was excited. This bar had maple in it, one of my favorite things.
I took a bite and it certainly had a chewy and dense texture, and sort of a disappointing maple flavor. It was sweet, just a tinge salty, and had sort of an awkward maple flavor. Not to say that I didn't like it, but I didn't love it either. I did appreciate the density of the bar as I chewed it, not too thick/dense, but just the right amount.
Overall, I do like that it was organic, had some whole grains and had 6 grams of fiber per bar. I can see it being a good snack to hold me over until my next meal, and perhaps a good lunch with some fruit and a yogurt. I do wish it had a better maple flavor, as that's what I was hoping for in this bar. So, this one gets 3 stars.
1 bar (34 grams) is 120 calories, 2 grams of fat, 27 grams of carbohydrates, 6 grams of fiber, 8 grams of sugar and 2 grams of protein.
What's your snack of choice? Granola bar, or something else?
I was sent this granola bar to try for free from New England Naturals.