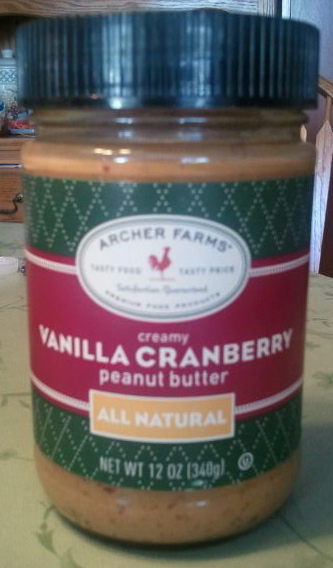 Well… it's my last review…(of 2010! I'm not going anywhere! =P )
And to honor the great year of 2010 (thanks for all who read, comment and participate! you guys are great!), I'll end it with one of my favorite things (hopefully you can guess…)
a peanut butter! (although you probably already knew that after you read the title of the review…but anyway…)
Archer's Farms Vanilla Cranberry Peanut Butter is one of my favorite peanut butters. Honestly, just give me a spoon and a jar of this stuff and I'll be happy : )
It has such unexpected, great flavor. It's creamy, just like the jar says, and pretty thick, but still has that slightly runny consistency. It smells like peanut butter with a slight vanilla scent, and there are tiny pieces of peanuts and cranberries throughout the jar. The flavor is a rich peanut taste with sweet undertones. The cranberries are really good- sweet and not tart at all.I can really taste the vanilla too- just really good!
My favorite way to eat this is on toast (and straight from the jar, of course!). I feel a peanut butter isn't good for me unless I can eat it straight from the jar. Incredibly tasty, I highly recommend it! Without a doubt, 5 stars.
2 tbsp (32 grams) is 170 calories, 13 grams of fat, 9 grams of carbohydrates, 2 grams of fiber, 6 grams of sugar and 7 grams of protein.
HAPPY NEW YEAR!!!!!