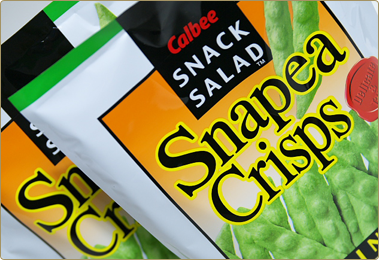 SOURCE
Normally, my sweet tooth predominates over my other taste buds, but every now and then I'm in the mood for something salty. At the store the other day, I saw these Snapea Crisps which I thought were quite interesting. I happen to like veggie chips and these kind of looked like them- except the exterior looked like sugar snap peas. I picked up a bag, bought them and took them home to try.
I certainly agree with the front of the bag which says "Delicate & Tasty", for, well, that's exactly what they are! They are very light, and when I took one out little pieces sort of crumble off. They have a potato chip sort of taste, and have that oily feel that gets left on the mouth after eating them, but they aren't greasy themselves. Very slightly salty, they are actually quite enjoyable.
If you're not a fan of vegetables, you may be put off by the veggie appearance. But fear not- these are actually good! I bought these with a friend who wasn't interested in trying them, but after she did, I caught her eating half the bag when we got home! (Good thing I'm good at sharing!)
On the back of the bag it says "Your Salad Never Got Such A Lift!" but I think I would eat these more as a snack rather than on top of a salad. As a bonus, they have 3 grams of fiber and 4 grams of protein per serving! 4 stars
1 oz is 130 calories, 6 grams of fat, 15 grams of carbohydrates, 3 grams of fiber, less than 1 gram of sugar, and 4 grams of protein.
What's your preference- SALTY or SWEET?