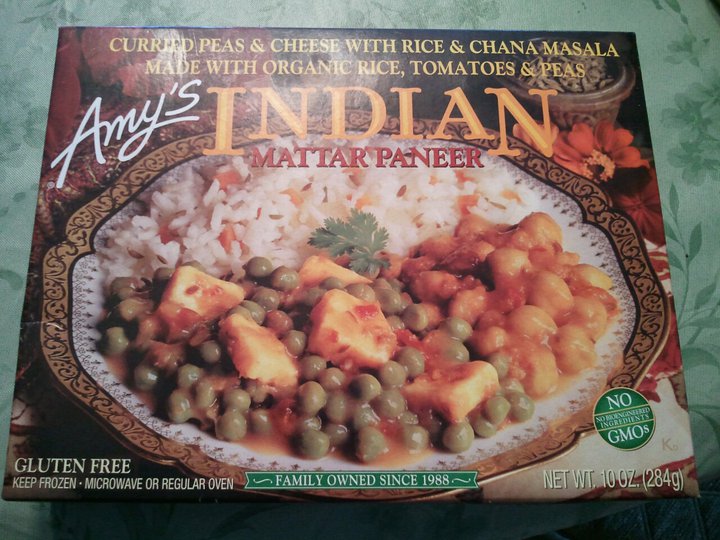 Amy's Kitchen has yet to let me down when I have tried their meals in the past, and they certainly didn't let me down with the Indian Mattar Paneer. Although I have had comments from people about the spicy smell that floods the kitchen (sorry!!), this meal is too good to pass up.
The box says it's "curried peas & cheese with rice & chana masala" and also "made with organic rice, tomatoes & peas". And on another note, this meal is ALSO gluten free!
So after cooking this meal, there was basically 3 sections. One with peas with indian cheese, one with chana masala, and one with rice. Starting with the peas and cheese, at first I didn't see any cheese. It was buried underneath the peas, but after a quick stir, rather large pieces of cheese emerged. I thought it was tofu actually, until I tasted it. I don't even know what Indian Cheese is…BUT IT'S SO GOOD! And I don't even LIKE cheese! It was creamy, slightly chewy, almost like a thick cream cheese. The cheese was resting on the peas, firm but well cooked, and rather spicy actually. Great flavor.
Moving on to the chana masala, another thing I'm not entirely sure what it is, but the back of the box said it was "organic garbanzo beans and sweet organic tomatoes". The beans were soft, and the tomatoes were more of a sauce than actual chunks of tomatoes.
Lastly, the rice. I don't know how Amy's does it, but the basmati rice is sooooo. gooood. Super fluffy, with baby bits of carrots, and tiny pieces of cumin. Even though it's not overpoweringly flavorful by itself, it's still really good! My second favorite part of the meal (who me? A carb queen? Like rice? Pshh…), aside from the cheese.
Overall, a great meal. Great spiced flavor (and I can't tolerate spicy things well- so this one was just perfectly spiced in my opinion!) I just had a side of steamed broccoli to up the veggie intake, and I was perfectly satisfied with eating this. 5 stars.
What's your favorite Amy's dish?
1 meal is 370 calories, 11 grams of fat, 54 carbohydrates, 6 grams of fiber, 8 grams of sugar, 13 grams of protein.