I happen to like dried fruit. Chewy, sweet, good on the go or in cereal. Although apricots may be my favorite, I thought that dried apples would be good as well seeing as apples are my favorite fruit. Anyway, seeing the picture below (apologies for ripping the bag HORRIBLY), the apples look like dried apple slices.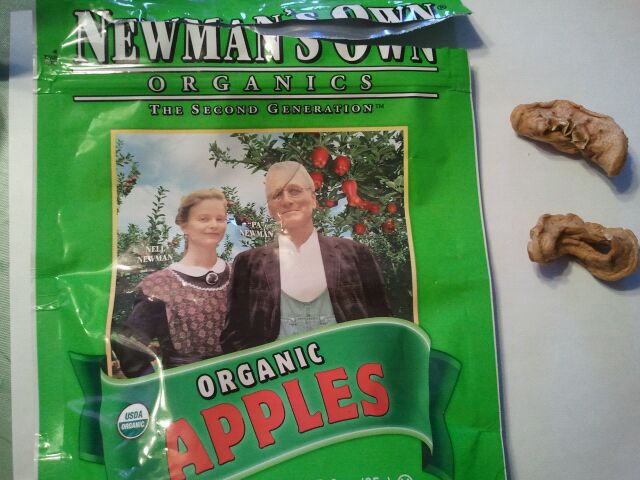 Each one was tough, and had a nice bite to it. But the flavor was actually quite good. Definetly sweet and chewy, not tart at all with a raisin-like consistency, they reminded me of those bits of apples I used to get in my instant oatmeal when I was a kid, (and, well, still eat now…).
What I also liked was that you get quite a bit of pieces for a serving. They are not all apple rings, some are just pieces in the bag, and after I measured how much a serving was (40 grams), it was a generous amount. Something good to snack on, and something I'd have to actually take time to chew and enjoy! Just another way for me to enjoy my favorite fruit. Best part is, only ONE ingredient, Dried Organic Apple Rings. 4 stars!
1/4 cup (40 grams) is 120 calories, 0 grams of fat, 29 grams of carbohydrates, 2 grams of fiber, 22 grams of sugar, and 0 grams of protein.
What's your favorite dried fruit?
I was provided this bag of Organic Apples to try for free from Newman's Own Organics.