New England Naturals combines two of my favorite things in one- bananas and granola. Being the avid cereal lover I am, granola is certainly on top of the list. According to the package, this granola has "Banana Chips, Walnuts & Honey",  as well as "27 grams of whole grains" with "0g trans fats". Sounds like a winner to me!
I liked the package due to its bright yellow exterior and that I could see the granola right through the front of the package, rather than it being a picture of the granola it was the real deal. Here's a pic of it below (Voila! I learned from my mistake this time, and  did NOT open the package before I took a picture!)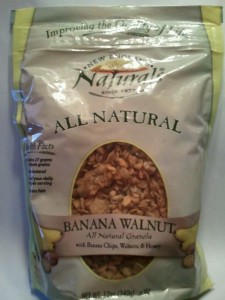 After opening, I saw rather  large banana chips, a few pieces of walnuts, and a lot of oats. The smell was delicious, just like banana bread. The banana chips weren't as sweet as I had expected, but still yummy and crispy, with a slightly oily taste. I checked the back and the ingredients said "banana chips with coconut oil", and I can definitely taste just a hint of coconut on the banana chip. The walnuts were standard, but  good. Crunchy, yet still soft, and flavorful.  Then I took a handful of just the oats and ate those by themselves. The flavor of the granola was really good- certainly sweet, with mild banana, vanilla and coconut flavors. Delicious actually. It wasn't as crispy as I like granola to be, but still good.
Overall, 4 stars. Pretty tasty, and I liked how there were big pieces of banana chips and not just little banana fragments. This granola has 260 calories and 12 grams of fat per 1/2 cup serving, which is a bit high in my opinion. I think it would be great mixed with another cereal and some fruit for breakfast, or I can picture this being good with plain yogurt, as it has a ton of flavor.
1/2 cup (55 grams) is 12 grams of fat, 34 grams of carbohydrates, 4 grams of fiber, 11 grams of sugar and 6 grams of protein.
What's your favorite brand/type of granola?
I was given this bag of granola to try for free from New England Naturals.