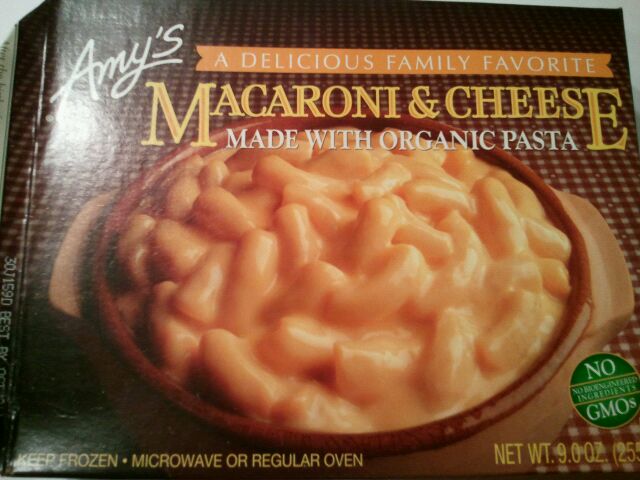 Ok. I've heard excellent things about this dish, and I finally tried it. Seeing as the avid Amy's Kitchen fan I am, I asked myself why have I NOT tried this yet? I'll reiterate that I'm not a HUGE fan of pasta, but it's yummy every now and then. So I steamed up some broccoli (my usual veggie of choice), and made this in the microwave.
After stirring up the dish, I was taken aback on how thick and creamy it was. Like almost as if a giant block of cheese was placed on a bed of noodles and left there to melt. Globby, thick, creamy, cheeeeese.
I tasted a spoonful, and thought ohh yeaaa. This is some SERIOUS mac and cheese. It had a mild cheddar taste, and no overpowering flavor, but just really good. It did need a sprinkle of salt, I felt it just needed a little bit more, but it was good none-the-less.
As I ate my meal, the mac & cheese thickened up, and it was almost like a thick, cheese paste on the chewy yet tender noodles. Tasted just like baked macaroni and cheese that was simmering in the oven for quite some time, yet was available much more quickly due to the microwave.
Overall, 4 1/2 stars. Deeeeeeeeelish. My only complaint was that it was high in saturated fat (10 grams!!), and low in fiber (only 3 grams). Otherwise, give me this dish and some steamed broccoli and I'm good to go!
1 container is 410 calories, 16 grams of fat, 47 grams of carbohydrates, 3 grams of fiber, 6 grams of sugar and 16 grams of protein.