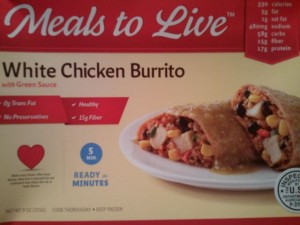 Following my last Meals to Live review, last night I tried the White Chicken Burrito. It sounded delicious, and good for me too! It had 15 grams of fiber, 17 grams of protein, and only 5 grams of fat (and only 480 mg of sodium, which I don't think is that bad!)
I opened the box, cooked it for about 5 minutes in the microwave, and took off the plastic. I saw a rather large brownish square with some green color on it as well from the green sauce. I then transferred it to a plate, and noticed that the "green sauce" as stated on the front of the box was more like a green paste or gel. It certainly didn't have a lot of fluidity, and was just kind of like a spicy green jelly.
Anyway, I opened up the burrito to show you what it looks like. Here's what I saw…
As you can see, it took up the majority of my plate, and was rather large. The inside had quinoa, black beans, corn and more. I decided to try the tortilla first.It was actually pretty good- chewy, slightly crispy on the edges, and quite yummy. The green sauce didn't really add much to it, aside from a little bit of spiciness.
Next, I tried the inside of the burrito. It was rather dry, and kind of pasty. There were also pieces of chicken on the inside which were chewy, but good, and not overly salty tasting. There wasn't a lot of unique flavor going on because it was SO SPICY! Honestly, I couldn't really distinguish flavors of anything because it was so overly spicy. Perhaps if you like the heat in foods, you would like this, but so not for me. All I could taste was the spice!
Overall, it wasn't exactly my favorite dish, but perhaps I would have liked it more if it wasn't so SPICY!  And, it did have pretty impressive nutritional stats, leaving this dish at 2 1/2 stars.
1 package (255 grams) is 5 grams of fat, 58 grams of carbohydrates, 15 grams of fiber, 8 grams of sugar, and 17 grams of protein.
If you could make the perfect burrito, what foods would  you put in it?
I was provided this meal to try for free from Meals to Live.