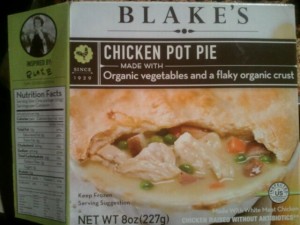 Introducing…… THE PERFECT POT PIE. At least it's perfect in my eyes.
I'm a huge fan of pot pies. And to win me over, the crust has to be tasty- for to me the crust = the best part. And this pot pie surely does NOT disappoint.
I used the combination method, or the "Express Cooking" that was listed on the back of the box. A combo of microwave + oven, in around 20 minutes or so.  The crust was a golden brown on the outside, crisp edges with a slightly doughy middle. Like a flat biscuit placed on top- the perfect pie crust. It was tender and incredible.
Moving on to the insides, there was good sized chunks of juicy, slightly salty chicken, peas that were soft yet still firm (I hope that makes sense…), soft carrots and bites of potatoes. What I liked also about the potatoes is that some of the pieces still had the skin on, but it was very tender and even fluffy- the box stated that they were "organic red potatoes". All of the inside of the pot pie was in a delicious gravy-like mixture- it was thick, creamy, and tasted like chicken stock.
To be honest, how it looks on the box is how it looked on my plate. I would have taken a picture, but I started eating it before I realized. (Oops!) It went perfect with a side of steamed broccoli. The only downside was that this pie had a good amount of both fat (17 grams) and saturated fat (8 grams) but wasn't too bad with the sodium (470 mg). So what does this get? 5 stars! 8)
1 package (227 g) is 340 calories, 17 grams of fat, 34 grams of carbohydrates, 5 grams of fiber, 1 gram of sugar, and 15 grams of protein.
Do you eat pot pies? What's your favorite brand?