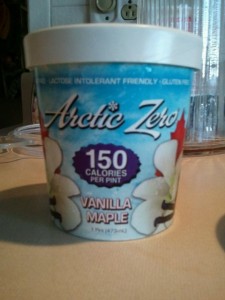 What is Arctic Zero?
According to the  container, "Arctic Zero is an all natural, smooth and creamy ice cream replacement". The entire pint has "16 grams of whey protein, 8 grams of fiber" and is also "gluten free".
One serving, 1/2 cup, is 37 calories and 4 grams of protein. Wait….WHAT?!
Yep, that's what the label says! The entire pint is 150 calories.  And seeing how I happen to love the flavor of maple, I put this little container in my shopping cart, paid, and went off to try it.
The first thing I noticed was the consistency. It was super smooth and creamy like ice cream, it was kind of like a smoothie being frozen, or a harder sherbet. When I placed it into my bowl, it was kind of choppy. I put about half the container in my bowl, and sprinkled a good amount of granola on top for some crunch.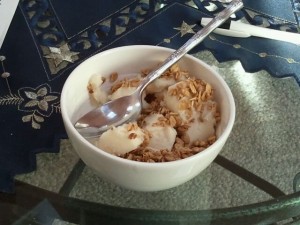 By itself, it had a very artificial maple flavor, kind of like the artificial maple syrup. It also had kind of a funky aftertaste, and an off sweet flavor. I wasn't really into it by itself.
However, with the granola, it was really quite good. The crunchiness of the granola made the Arctic Zero feel creamier, and I actually enjoyed it. I certainly reccommend a topping if you are going to buy or eat this, because I wasn't really crazy about it as is. I did like that it had 4 grams of protein and 2 grams of fiber per serving. Overall, 3 stars.
1/2 cup (74 grams) is 37 calories, 0 grams of fat, 7 grams of carbohydrates, 2 grams of fiber, 7 grams of sugar, and 4 grams of protein.
Have you ever tried Arctic Zero? Which flavor?