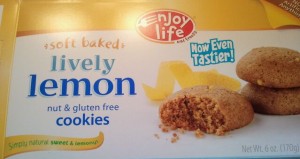 EnjoyLife offered to send me some of their cookies for free, and one of them was the Lively Lemon cookies. According to the box, these are wheat free, peanut free, dairy free, tree nut free, soy free, fish free, egg free and shellfish free, as well as being gluten free. I don't have any food allergies, but I was still up for trying them anyway.
I opened the box, and saw kind of small-ish cookies with yellow spots on them. They smelled very fresh and lemon like. I took one out of the box and was a bit disappointed at how small they were. For a comparison, here's what they looked like compared to a Snapple cap.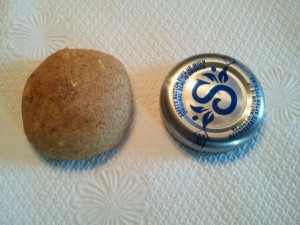 More like bite-sized cookies to me!
These cookies were super soft,  no crunch here. They were chewy, except for the little yellow bumps that were a bit harder. They were sweet with a lemon zest flavor, and pretty good. It was strange that they were really moist, yet dry at the same time- odd? Overall, they were pretty good. Not amazing, but pretty good. I had a friend try one an she said they were "very good in their own way" but they "had something missing". I agreed.  3 1/2 stars.
What's your favorite thing that is LEMON flavored?
2 cookies is 130 calories, 4.5 grams of fat, 21 grams of carbohydrates, 2 grams of fiber, 11 grams of sugar and 1 gram of protein.