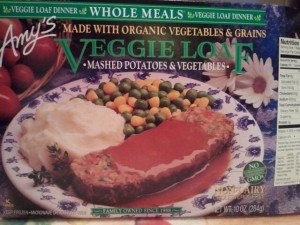 Alrighty. Here goes the Amy's Kitchen Veggie Loaf Whole Meal review. Ok, so the name isn't exactly super exciting, but then again I don't really find the word "loaf" all that exciting either. Anyway, I'm assuming Amy's Kitchen is taking a veggie stand on meat loaf.
Sooooo in this meal is a veggie loaf with some sort of gravy, peas and corn, and mashed potatoes. After I cooked it, here's what it looked like.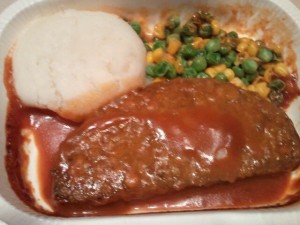 much prettier on the box, indeed.
I started with the peas and the corn. I took a spoonful and almost instantly noticed a texture problem. These were, well, mushy. I was expected them to be crisp, even slightly firm. The taste was really good, but they had a uniform texture- I couldn't distinguish a kernel of corn from a pea as I chewed it. However, everything was pretty flavorful and the peas were pretty sweet.
Next up, the mashed potatoes. I was a bit let down at the portion of the potatoes, as it wasn't very large. I took a scoop and they were fluffy, slightly pasty, and slightly salty. The taste reminded me of those thick wedged potato fries. Pretty good.
Lastly, the loaf. On top was a sweet tomato-flavored sauce/gravy. It wasn't super sweet, but it wasn't really salty either. The loaf itself was dense, chewy and had a lot of vegetables in it. I easily detected a black pepper flavor, and some garlic as well. It was a tad bit dry, but not too bad. It's kind of hard to explain- it was almost like oatmeal and veggies in a loaf shape. Here's a picture of what a piece looked like.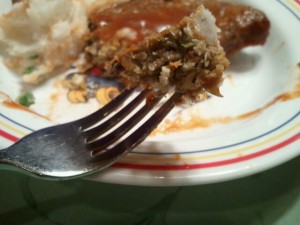 Overall, I actually really enjoyed this meal. It was a light meal, not super filling but substantial, and really quite tasty. It's a little low on protein, only 9 grams, so I think having a glass of milk or something along the side would be a good option. I also think it's safe to say I filled my vegetable quota for the day  ; )   4 stars.
1 meal is 290 calories, 8 grams of fat, 47 grams of carbohydrates, 10 grams of fiber, 6 grams of sugar and 9 grams of protein.
What's your preference- Vegetable Loaf or Meat Loaf?