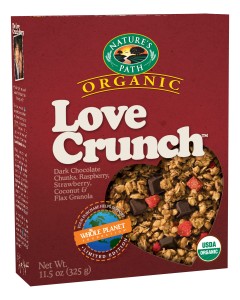 Ooh- not only something new, but also a limited edition!! I was offered a free box of Love Crunch by Nature's Path, and well, seeing as 1. I love cereal and 2. I love Nature's Path… how COULD I say no? : )
I got the box in the mail and instantly couldn't wait to try it. A granola with dark chocolate chunks and fruit- what's not to like? According to the box, there is also coconut and flax in this granola, which I certainly didn't mind either.
I opened up the box and was a tad disappointed. Not as many dark chocolate chunks or freeze dried raspberries/ strawberries as I wanted or was hoping for. In fact, there really wasn't a lot at all! Anyway, I tried the granola first. It was crunchy and sweet, with a coconut and a slight chocolatey taste- really good actually. I found  a dark chocolate chunk which I actually thought was very tasty, and I'm not even a *huge* dark chocolate fan. It was slightly bitter, but very smooth and quite sweet as well. There were very sporadic pieces of freeze dried fruit, and when I tried a freeze dried piece of strawberry I was surprised that it was crunchy! Usually freeze-dried fruit for me is rather soft, but these were a nice twist!
Overall, really good! I ate it right out of the box, but I'm sure it can be enjoyed a bunch of other ways as well! I think with some fruit and yogurt it could be a very delicious breakfast : ) I just wish there was more yummy strawberries and dark chocolate chunks! 4 stars.
3/4 cup is 260 calories, 9 grams of fat, 38 grams of carbohydrates, 4 grams of fiber, 10 grams of sugar and 5 grams of protein.
What's your favorite type of granola?