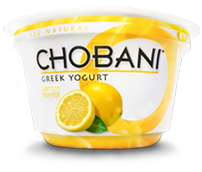 Source
For starters, I LOVE Chobani yogurt. Creamy, thick, and insanely yummy. Strawberry Banana and Pineapple Chobani will always have my heart, but I'm always up for change.
Sooooooo at the store the other day, I nearly jumped for a joy when I saw the Lemon, one of the newer flavors. I'm not a HUGE lemon fan, but there were no other new flavors available, so I decided to try this one. Lemon can sometimes be very refreshing, I just hoped it wouldn't be too tart!
So yesterday I decided to have the Chobani with some granola on it as well. I opened the Chobani and gave it a stir, surprised not to see any jelly/fruit on the bottom. It looked like it was a blended yogurt. It still had the same creaminess and thick consistency that I know and love. I took a spoonful, hoping for the best, and unfortunately I was not a fan.  : (
It wasn't really that sweet, and kind of tart, actually. It was like lemonade made without enough sugar- where it's sweet but not sweet enough to mask the tartness of the lemon. It was good when I had the granola with it, since it toned down some of the lemony-tart flavor, but by itself I wasn't enjoying it. I probably would not get this again in the future. For me, I'd give it 2 1/2 stars
Have you tried this new flavor yet? What did you think?
1 cup is 140 calories, 0 grams of fat, 20 grams of carbohydrates, 0 grams of fiber, 18 grams of sugar and 15 grams of protein.