Anyone ever been to Crumbs Bake Shop? I've heard great things about this place! I would agree that with any healthy diet, there's room to indulge! And I just so happen to have a sweet tooth…
So, I bought a Mini Black & White Cookie.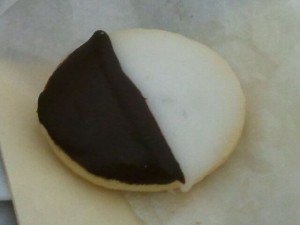 It had a rather thick layer of icing on top, as well as a good amount of cookie underneath. It was "mini" in the sense where it wasn't a huge as the typical black & white cookies are, but I would say it was about the size of a standard homemade chocolate chip cookie, or a bit bigger than, say an Oreo.
The cookie part was soft and cake-like, with just a slight crisp around the edge. The icing on top was smooth and sweet- the chocolate had a rather deep chocolate flavor, and the vanilla was delicious as well- almost a buttery flavor. I preferred the vanilla over the chocolate side.
Overall, this cookie was really good, but also very sweet. But since it was a Mini Black & White cookie, it wasn't overpowering, and was just perfect. It certainly satisfied my sweet tooth! 4 1/2 stars
Have you ever been to Crumbs Bake Shop? What's your favorite thing to get?