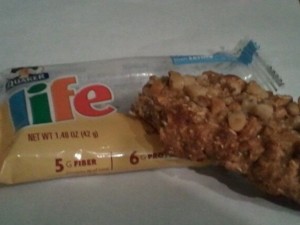 One of my all time favorite things is banana bread- I love the sweet banana flavor, the softness of the bread, and the way it feels so dessertlike.
So, what about that same thing transformed into a bar? Quaker makes a Life Banana Walnut Bread Bar, that has pretty good ingredients, and according to the package, "5 grams of fiber, 6 grams of protein" and "20% of 5 B Vitamins". Sounds pretty yummy to me!
I saw on the front of the bar's package to "try HEATING, then EATING", and took the advice. I opened up the package, and was greeted with a rather strong and sweet banana aroma.  Then, into the microwave this bar went for about 10 seconds.
The result was a soft and chewy bar, that wasn't super dense. On top remained  a good amount of crunchy and flavorful pieces of walnuts.The banana flavor was delicious- not a fake banana flavor, but sweet like freeze dried bananas (which makes sense, since there is "freeze dried bananas" listed on the ingredients). This bar was actually very sweet, but very good, and did actually remind me of like a store-bought banana muffin, or a sweet version of homemade banana bread.
Overall, I'm a fan. Of course I'm a fan! It's sweet, great banana flavor, has fiber, protein, and the first ingredient is "whole grain rolled oats". I'm also impressed that there's not a ton of sugar or fat in the bar, with 10 grams sugar and 4 grams of fat per bar. 4 stars
1 bar is 150 calories, 4 grams of fat, 26 grams of carbohydrates, 5 grams of fiber, 10 grams of sugar and 5 grams of protein.
What's your favorite flavor of muffin to eat or get out? I think we know my favorite muffin at the deli wold be banana ; )