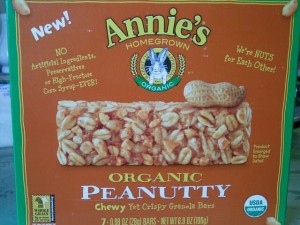 Browsing Target, I spotted something new by Annie's- Organic Peanutty Chewy Yet Crispy Granola Bars! Since I love new products (aaaaand I'm a total impulse buyer) I bought them and took them home.
On the box, it states that these have "NO Artificial Ingredients, Preservatives or High-Fructose Corn Syrup- EVER!", so I could tell I was already starting to like these!
I opened up the box, and was a bit disappointed at the size. They were about the size of a LARAbar, but not as wide. Usually I prefer a more heftier sized bar for a snack, but then again, taste is what it's all about!
I took a bite, and found it to be rather dense. It indeed did live up to the name, it really was "chewy yet crispy" in consistency! I also thought it had quite a bit of a sticky feel. It had a good peanut flavor, but really wasn't all too sweet. I also detected just a hint of vanilla flavor.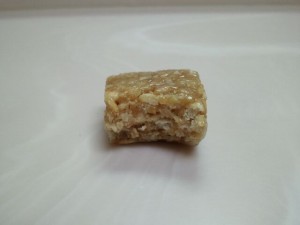 While these won't replace my love for Annie's Chocolate Chip Bunny Grahams, they were still pretty good. I do wish they were a tad bit sweeter, and also a bit bigger. 3 1/2 stars
1 bar (28 grams) is 120 calories, 5 grams of fat, 17 grams of carbohydrates, 1 gram of fiber, 5 grams of sugar and 3 grams of protein.