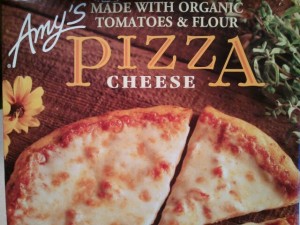 Sometimes, all I want ( make that NEED) is a good piece of pizza. Since I happen to be a fan of Amy's Kitchen, why not try one of the pizzas?
I preheated my oven to 425 F and let it cook for about 10-12 minutes on a pan. I also put it on broil for about a minute before taking it out to give a final melt to the cheese. Here's how it looked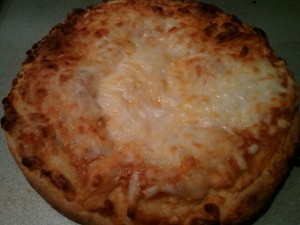 Next, I cut it up into 4 slices, and ate it with some steamed veggies. It wasn't too greasy looking, so that was a plus for me. The first thing I liked was the crust- nice and doughy, yet a slight crisp on the bottom. The pizza kind of reminded me a Sicilian-style pizza. Doughy, with fresh tasting marinara-like tomato sauce, and a good amount of mozzaralla cheese. The cheese itself was chewy, in a good way, and slightly salty. I really couldn't believe this was frozen, it tasted just like it would from a pizzeria!
Overall, this is pretty much everything I could want in a cheese pizza (besides the fact it didn't have a 100% whole wheat crust, but this is too delicious to pass up!). Great flavor, freshness, a good portion size, and made with organic ingredients! 5 stars for sure, and I'm definitely buying it again!
1 pizza (176g) is 420 calories, 17 grams of fat (6 saturated), 49 grams of carbohydrates, 3 grams of fiber, 4 grams of sugar, and 18 grams of protein.
What's your favorite type of pizza to get at a pizzeria? I happen to like good ol' cheese, but I also like Grandma Style pizza!